Last update: June 18, 2014
REGISTRATION IS CLOSED
NOTICE TO PALYERS: All Registered Athletes must be at the main parking lot at Tamarack Resort by 8-8:30am and no later than 9 am on Saturday to check in and get lift pass and sign release waiver or you dont get to play.
Lift pass included in entry fee along with grass fed Kobe beef 'burgers and such for lunch for all athletes on Saturday. All athletes that make the cut get lunch on sunday…. thats the word I heard.
Estimated Play Schedule:
Hole in One @ 9am
First round starts at 10am
Pros and Advance start on Mountain Course(take the lift)
All other divisions play Main Tamarack course
Lunch
Afternoon round @ approx 2pm
Divisions switch courses
---
Come play 36 holes at the private course at Tamarack Resort, located 30 minutes north of the PRG's.
Courses:
Athletes will FIRST play 18 holes on the world class Tamarack course, which is a 5,000 foot par 3 and par 4 disc course. The course meanders through the beautiful mountain-pine forest with gradual elevation gain over the first 9 holes. The last 9 holes feature more open holes with long downhill drives. SECOND, Athletes will take the chairlift up to mid-mountain and play an additional 18 holes down the mountain at Tamarack resort. You will begin play at around 7,000 feet and will play down to the base, which is a vertical of 1,700 feet. After the second round players will be cut and those advancing will play 1 round on Sunday.
Athletes will THROW-DOWN THE MOUNTAIN and will take shots off the ridges and cliff walls while Eagles and Osprey soar overhead.
Purses and Prizes:
For the Pros: 100% Payout plus an additional $4,000 purse
For the Amateurs: 100% Payout plus an additional purse for each division of $1,500 (advanced amateur, advanced masters & intermediate amateur)
ALL Purse payouts will follow PDGA payout rules
In addition, the top 20 finalists will each receive 1 FREE BODY GLOVE LONG SLEEVE PERFORMANCE SHIRT, courtesy of BODY GLOVE
COMPETITION WILL BEGIN SATURDAY JUNE 21 AND ADVANCING PLAYERS WILL COMPETE AGAIN IN THE FINALS ON SUNDAY JUNE 22. EXACT TIMES TO BE ANNOUNCED.
Chance to win a Luxury SUV:
All athletes will have a chance at a hole in one to win a 2014 LAND ROVER LR4 with a value of $50,000. Only one winner will be awarded so shoot early.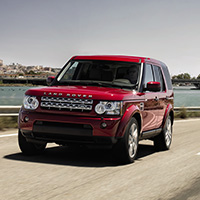 Actual color may vary from picture.
For additional good times there will be the classic games of "Closest-to-the-Pin" and "Longest Drive":
Closest to the Pin: iPad 4 with 32GB with value in excess of $500
Longest Drive for Pro $250, Advanced $250, Intermediate $100 and Beginner $100
---
Lodging:
The Athlete Village in Cascade is approximately a 35 minute drive to the disc golf event at Tamarack Resort. If you prefer to be closer, there is plenty of camping at the entrance to Tamarack Resort. Please see this helpful link published by Idaho Parks & Rec. There are about 10 different camp sites nearby.
If you prefer to stay in a motel, please refer to the Donnelly Chamber of Commerce. The most affordable lodging will be in Donnelley at either the The Boulder creek Inn or the Long Valley Motel
---
Registration and Registration Information: HERE
---
Tamarack Resort is located 7 miles West of Donnelly, Idaho. Take Roseberry Road from Highway 55 West, and follow the signs.
Contact Walter Bekker, PDGA certified official for more information.
Phone 208-850-2919 or email walterbekker@u.boisestate.edu
Raffle Prizes! Win a FREE IPAD 4!
ALL athletes who compete on Friday, Saturday or Sunday will receive a ticket for a raffle that will be held on Sunday during the FINALS. We will raffle off several items to the lucky winner whose ticket number we draw out of a hat. You must be present to win.
1 iPad 4
1 Glide Custom River Surf Board. www.glidesup.com (stop by Glide Booth to check it out.)
1 Hala Gear Peno www.halagear.com/product/hala-peno-inflatable-paddle-board
Also, athletes who compete on Saturday will be entitled to receive a Funday Sunday free beer from Payette River Brewery. Redeemable after noon on Sunday.
We encourage all of you to stay all weekend as we will have other fun things to give away to make sure you have a great time. Thanks for participating in the PRG's.
---